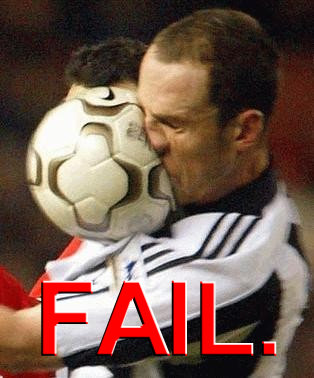 Maybe you have the perfect plan. It was set and good to go. Then all of sudden, almost out of no where, MEGA….UBER….ULTRA….FAILLLLL!
LISTEN TO TODAY'S FAIL STORIES ON THE PLAYER BELOW:
26-year-old Samantha Phipps of Bristol, England had lived with her boyfriend, Jack Ewing, for a year, when she became suspicious that he was cheating on her.  So she hired a sexy private investigator.     26-year-old Jane Gill calls herself 'Miss Honeytrap', and she was supposed to act as bait for Jack.  Last November, she took Samantha's $300, and agreed to approach Jack at a bar and make her move.  If Jack went for it, then Samantha would know for sure that he was the kind of guy who would cheat. And he did . . . with Miss Honeytrap ((SEE HER PHOTO BELOW)).  They ended up kissing, and making a date to meet in a hotel.  And before Samantha knew it, Miss Honeytrap had actually stolen her boyfriend. Miss Honeytrap says she didn't steal Jack, because, quote, "Their relationship was doomed the moment she booked me.  Once the trust goes in a relationship, that's it."
[polldaddy poll=6134351]
KOREAN MISSLE FAIL!
No matter how smart a guy is, no matter how skilled and knowledgeable and brave and careful he is . . . a really nice pair of breasts can ALWAYS cause his undoing.  And that's EXACTLY what happened to a hacker from Texas. Last week, the FBI apprehended 30-year-old Higinio Ochoa the Third from Galveston, Texas.  He's a hacker who broke into systems and leaked hundreds of police officers' and elected officials' personal information.  And he was caught all thanks to BREASTS. Here's how.  Back in February, Ochoa posted a bunch of confidential information he'd gotten by breaking into law enforcement databases. At the bottom of the website, to show off, he posted a photo of a woman with LARGE BREASTS, in a bra, with a sign bragging about his hacking. And that photo was all the FBI needed.  Ochoa didn't realize it was taken with an iPhone that embedded location data.  The FBI used that data to track down the breasts . . . they belong to a woman in Australia who's Ochoa's long-distance girlfriend. From there they were able to track down Ochoa and arrest him.  He's facing several federal charges. FAIL!
Last week in Pennsylvania, police pulled over 23-year-old Ray Woods of Philadelphia.  And when they did, they noticed he had a MASSIVE BULGE in the front of his pants.  Possibly too massive to be his junk alone. They searched him, and yes, the bulge was not just his manhood. Turns out Ray had a large plastic bag tied around his junk. That bag contained 26 bags of heroin and 41 bags of cocaine.  And when an officer tried to untie it, Ray allegedly tried to RELIEVE HIS BLADDER on the cop. Ray was arrested and charged with possession with intent to deliver, tampering with evidence, and a few other minor charges. FAIL!
A 20-year-old man is scheduled to appear in court Thursday on charges that he impersonated a police officer. Chadwyck Voegeli was arrested a week prior according to court documents after he attempted to pull a car over with what appeared to be a phone displaying red and blue flashing lights. He pulled up next to the car laughing until he saw the person he attempted to stop flash a Fort Wayne police badge. Two off-duty officers were riding in the car in front of Voegeli .  The suspect tried drive off but the officers followed him. Uniformed officers arrived at the scene and after a short chase on foot through the bar, Voegeli was arrested. FAIL!
A dude in Arizona was climbing over a pool fence at an apartment complex.  It was a fence with sharp spikes.  Cops found this dude with the spikes IN his neck and jaw!  FAIL!  He survived though!FAIL!
A woman in Oregon was having some trouble lighting the charcoal briquettes and mesquite chips in the barbecue at her house.  So,  she sprayed highly flammable liquid fuel on it.  Well – BOOM!  Her son suffered severe burns to his face and hands.  THe poor kid expected to survive.  FAIL!
A greased-up burglar's plot to rob a Springfield restaurant last night didn't prove as slick as planned after he wedged himself into a too-tiny rooftop ventilation shaft and got stuck, giving authorities a good chuckle when they arrived to free him, police said FAIL!
A guy in Chicago stole $17,000 worth of stuff from Radio Shack and cops easily found him because cops tracked him down using a GPS locater in one of the things he stole. FAIL!
After failing to procure beer from a liquor store, a Chicago man approached a woman nearby and used a toy gun to try to rob her of $2 before he was tackled by a bystander, authorities said. FAIL!
Wayne Dearmond, 29, was arrested Saturday morning after the alleged botched robbery outside a liquor store on Milwaukee Avenue near Ashland Avenue in the Noble Square neighborhood, prosecutors said. He faces charges of aggravated attempted armed robbery, and, in a brief court appearance Sunday, Cook County Judge Maria Kuriakos Ciesil ordered him held on $300,000 bond. FAIL!